By BRVR Staff
May 2020
This article reviews the top 10 best RV sewer hose supports available online.
When you book an RV campsite with sewer hookups, correct placement of your sewer hose is a must — and that's where RV sewer hose supports can make a big difference. These units raise the hose off of the ground at an angle, protecting it from sharp objects and reducing the risk of damage. They also hold the hose at an angle to help promote efficient drainage and prevent backups. Hose supports are particularly important when you're parked for extended periods of time, but you can also use them to protect your crucial sewer equipment during any trip.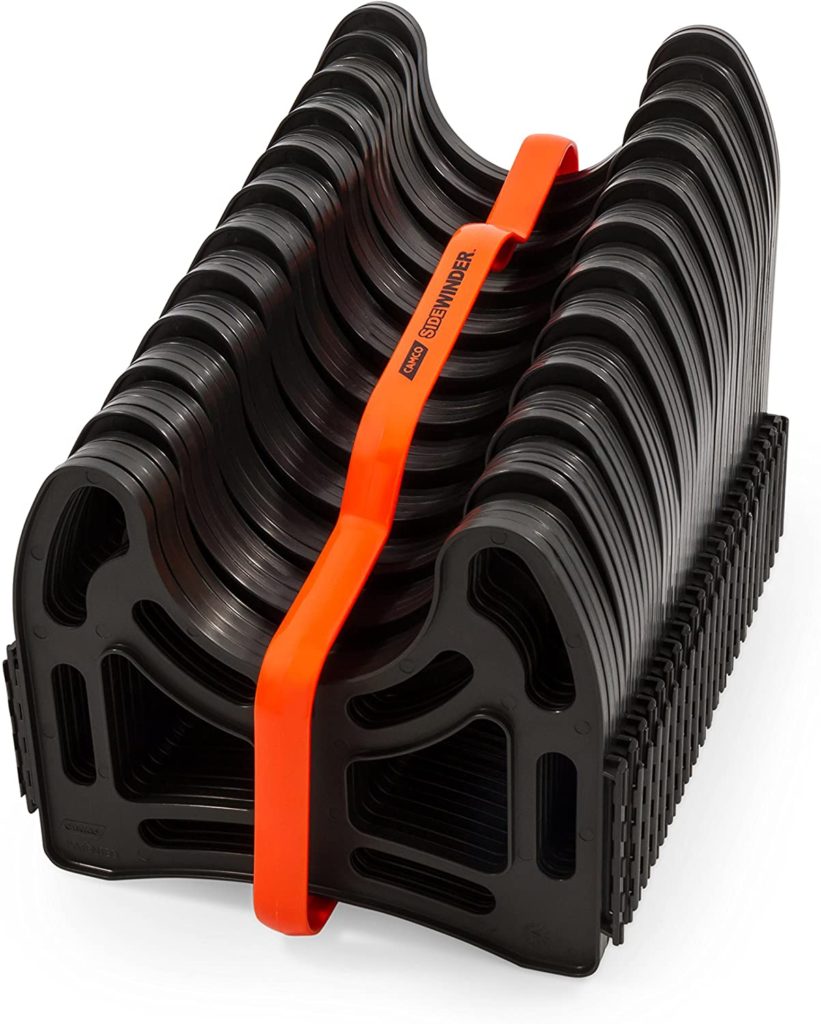 Simple and effective, the Camco Sidewinder support is easy to use. It features rounded cradles that hold the hose in its natural shape for easy draining. Each subsequent support section decreases in height, creating a gentle angle that helps material move smoothly through the hose to the sewer hookup. When you're ready to get back on the road, just collapse the supports into a single unit and secure them for easy storage.

This Valterra Slunky hose support is designed for flexibility; it expands easily and adjusts quickly into a curved or straight line. That way, you can adjust it to run around poles, trees, or other obstacles in an RV park. The wide supports create ample stability, and gentle texturing on the bottom surfaces keep the supports in place on the cement, grass, or asphalt. This set comes with straps that fasten the hose to the frame for secure installation.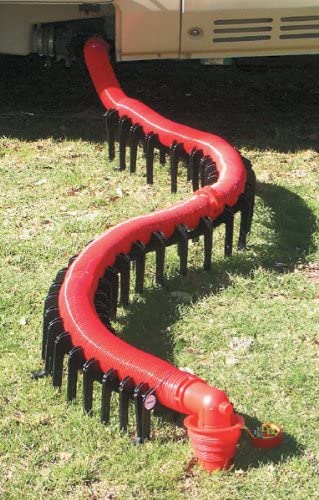 Accommodate a large sewer hose with this slunky hose support from AP Products. The 007-1000 features deep pockets, so your hose rests securely without the risk of slipping or tipping. Metal hinges connect each support section, providing ample support and allowing you to use the unit for extended periods of time. When it's time to pack up, the self-fastening strap keeps the sections together.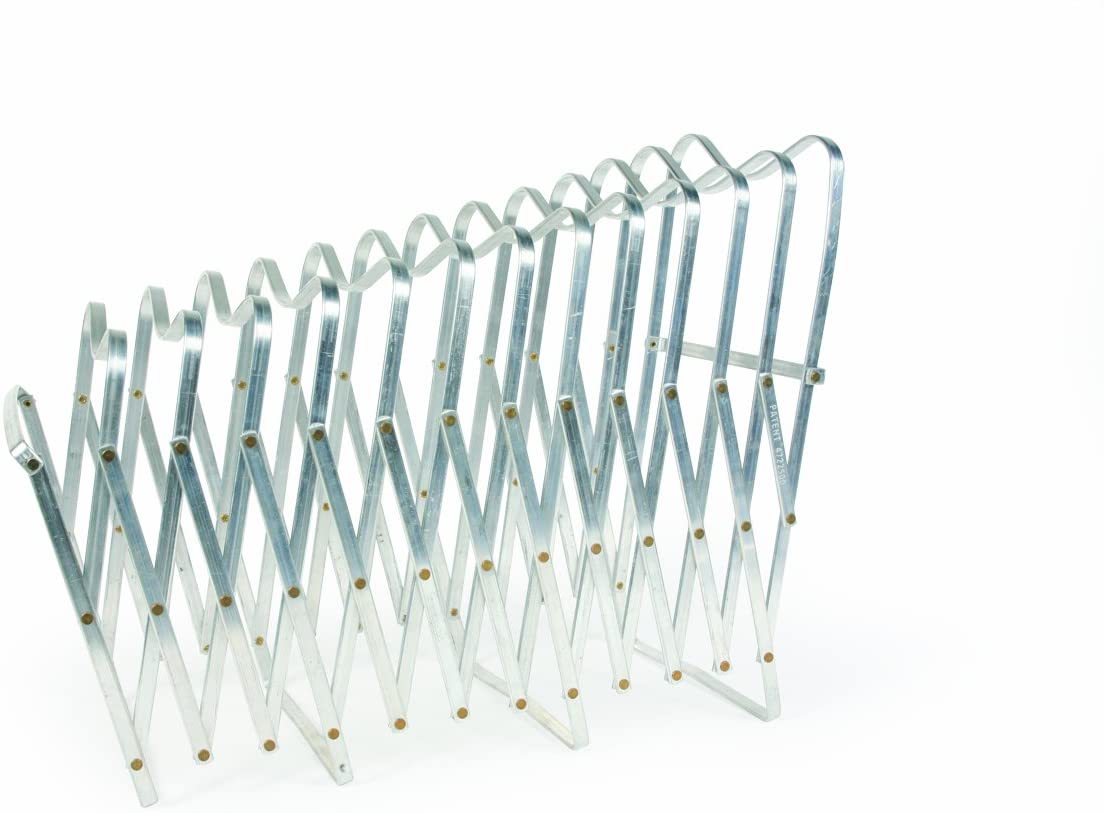 If you prefer a shallower cradle, this Camco hose support has you covered. It features a system of interlocking units, each with an indentation that's just deep enough to provide a stable installation. Included straps secure the hose to the supports, so you don't have to worry about slipping. This model is particularly good for uneven ground, making it a good choice if you like to choose grass or dirt sites.

5. Camco RV Sanitation Kit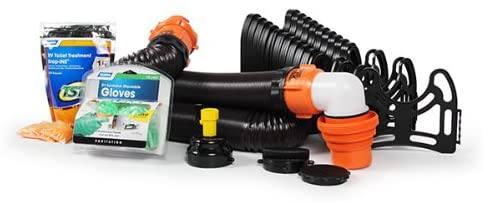 If you're just getting set up in your RV, this Camco RV sanitation kit provides all of the supplies you need in one handy package. It comes with a 15-foot hose, a Sidewinder hose support, gloves, cap, drop-ins, and more. That way, you can rest assured that each component will work together perfectly. We love the drop-ins, which help reduce unpleasant smells and create a better dumping experience.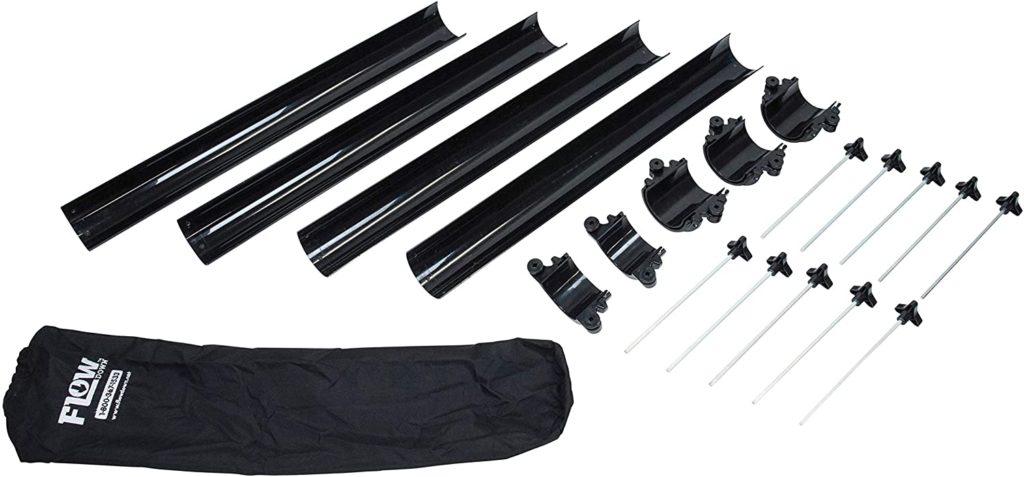 The 365053 assembly from Lippert Components holds your hose in a straight line to ensure the most efficient possible performance. It's exceptionally gentle on your hose; the supports consist of half-pipe lengths that offer uniform weight distribution. Adjustable legs lift the supports off of the ground, enabling you to accommodate everything from flat concrete to uneven ground. Need to run your hose around an obstacle? No problem — just separate the half-pipes and create the configuration you need.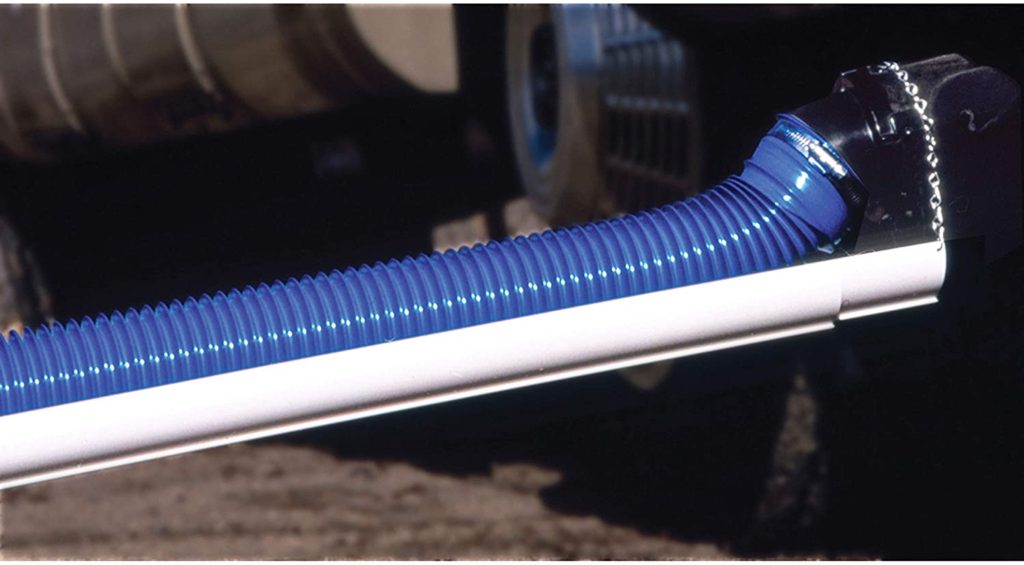 If you're looking for an ultra-simple hose support, the A04-0009 Valterra EasySlider model is it. It features just two components: a chain that hooks around the hose inlet and a support unit to protect the pipe. The chain automatically lifts the end of the support to the correct height, and the telescoping half-pipe prevents the hose from bending. Use this unit for hoses between 3 feet and 10 feet long. When you're ready to move, just collapse the unit for space-efficient storage.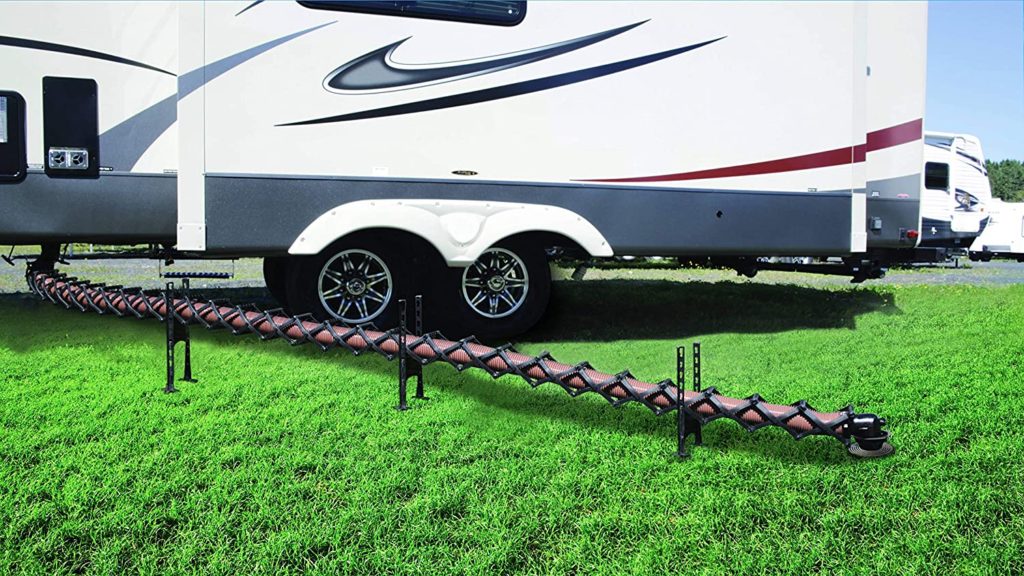 The TFlex support offers 360-degree support, which is ideal when you're camped in an area with heavy foot traffic or high winds. This unit slips around the end of the hose and stretches out to span the area between the RV and the sewer hookup. You can adjust the height of each vertical support to create the optimal angle for any campsite — plus, the flexible plastic unit can bend easily to accommodate any obstacle or setup.

9. Level-Trek 15-Foot Sewer Hose Support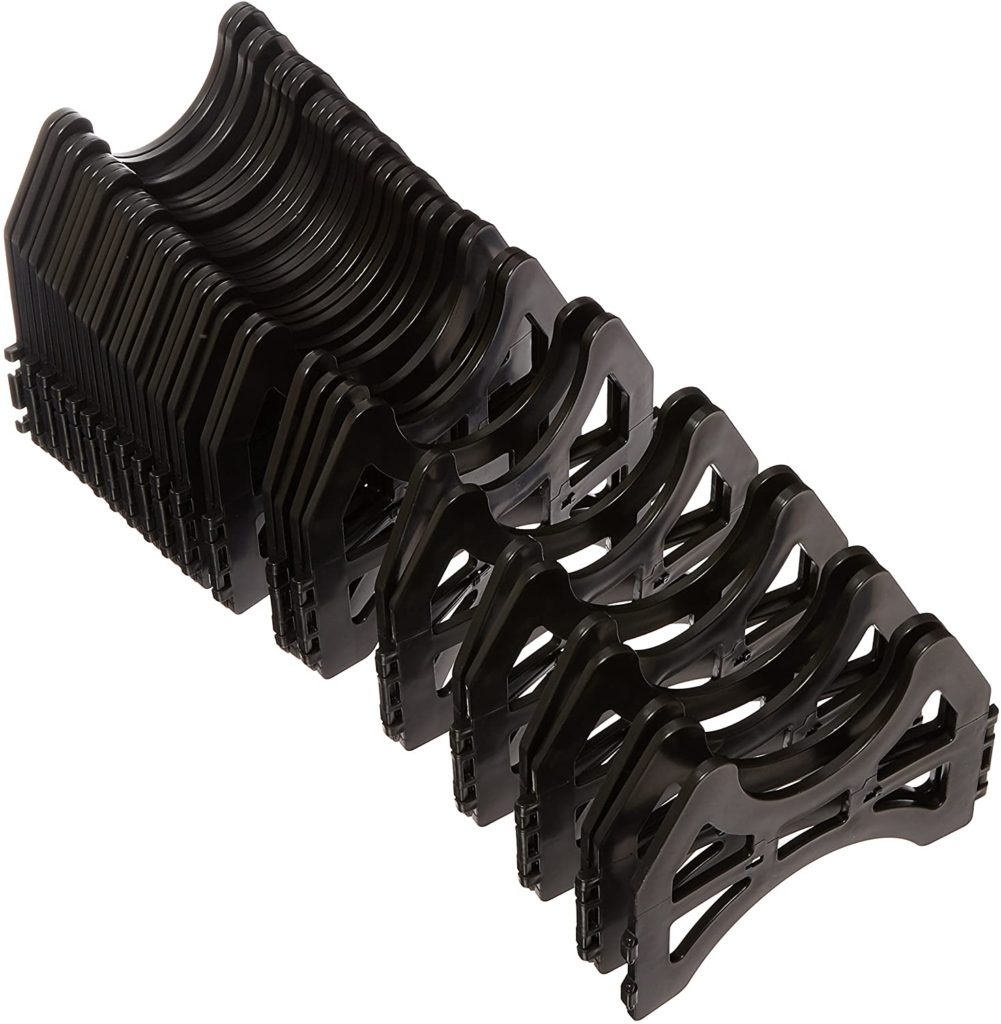 When it comes to ease of setup, it's hard to beat the LT80070 hose support from Level-Trek. It starts as a small, compact package and expands easily to 15 feet long. The flexible hinges allow you to run the hose around curves or corners, and the slight angle helps with efficient, fast drainage. With its deep, curved cradles, this unit keeps your hose secure.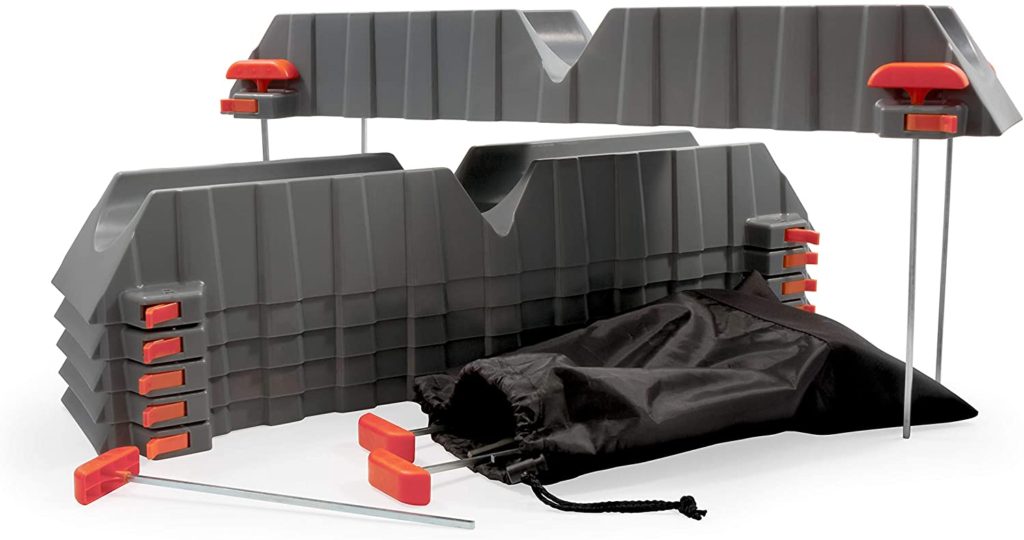 Are you looking for security and stability? This Camco set has it all. It consists of rigid cradles, each designed to support a large section of pipe. Used together, you can create a straight or curved layout. Rest the cradles on the ground or use the included stakes for a raised configuration; they're adjustable, so you can adjust them to create the perfect angle or suit the terrain.
With the right RV sewer hose support, you can extend the lifetime of your sewer hose — you can also reduce the risk of backups, leaks, and blowouts. With these great options, you can equip your RV for safer, easier drainage.
Related Reviews:
Top 10 Best Drinking Water Hoses
Top 10 Best Gravity Flush RV Toilets
Top 10 Best Portable Waste Water Tanks