Recreational vehicle shower heads are not the same as those you find in your home. An RV shower head must be light, have a hand-held capability, and come as a low-volume unit with shutoff capability. The importance of saving a limited supply of water comes naturally in an RV as the tank has a limited capacity. The water heater is powered off the RVs battery, making extra use of hot water a power liability. All in all, the advantages of a good shower head in an RV are incalculable. Here are the top ten available on the market today.
1. Dura Faucet RV Shower Head & Hose Kit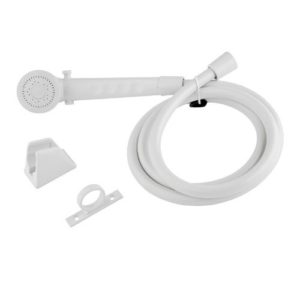 This kit is recommended as a replacement shower head for recreational vehicles, motor homes, campers, and trailers. The unit is easy to install with no plumbers necessary. The shower head and hose consist of lightweight, durable plastic designed with an easy hand-hold grip on the wand and a push-button trickle mechanism. With a hose length of 60-inches and a maximum flow rate of 2.2 gpm, the shower head is ideal for RV shower applications.
2. Camco 43713 Shower Head Kit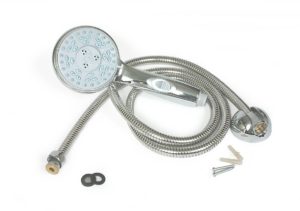 Camco offers an RV shower head with a chrome finish over a light-weight and durable plastic. The flexible hose comes in at a full 60-inches while the shower head has a nine-inch wand with a four-inch head surface that offers five spray options from a complete rain-forest deluge to a fine mist. The kit comes with washers, wall mount, and installation hardware. An on/off switch allows for water shutoff while shampooing to conserve water.
3. Builders Shoppe 4120WT Shower Set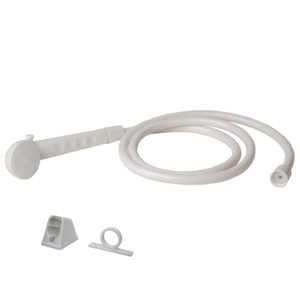 Builders Shoppe offers this shower set as a hand-held model in a non-metallic white finish. The kit comes with a 59-inch flexible synthetic hose, mounting bracket and guide ring. Made of durable plastic, the shower head offers a trickle option to conserve valuable water while sudsing up or shampooing. Installing this shower head kit provides the possibilities of using as a stationary head or as a hand-held device.
4. Dura Faucet Shower Head and Hose Kit (Chrome)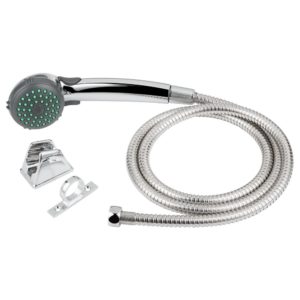 Created by Dura Faucet as a replacement for the standard RV manufacturer's installed shower head, this elegant shower head kit includes a nickel surfaced plastic shower head, a flexible chrome hose of 60-inch length and wall brackets for mounting purposes. The wand offers a single-purpose head that delivers water at a 2.5 gpm rate at 60 psi of pressure. The head includes a trickle option to conserve water during those sudsing and shampooing moments.
5. Dura Faucet Replacement Shower Wand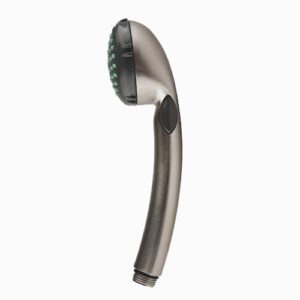 Dura Faucet offers this wand for replacement of regular wands when there is no need to replace the hose. The burnished nickel finish makes an attractive addition to the shower and an almost home-like appearance. The head offers a single function spray at 2.5 gpm and 60 psi. The wand is designed to be hand-held but can be mounted as well. The head is easy to install on any standard shower hose.
6. Builder Shoppe 3220CP/4120CP Two-Handle Shower Faucet Valve Diverter With Shower Set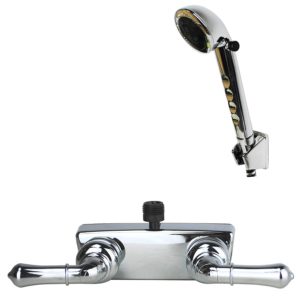 Designed by Builder Shoppe as an elegant replacement for the valve setup in an RV shower, this sleek shower kit includes all that is needed for an entirely new look. The shower head, double-handled faucet valve, and hose are all finished in chrome. The valves are a natural adaptation to the existing factory issued water valves with the added ability to combine hot and cold water in one device.
7. Oxygenics Skin Care Body Spa Shower Head (Chrome)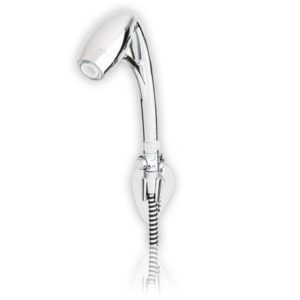 Oxygenics offers this chrome finished shower head set with added air pressure to ensure a complete clean without overuse of water. The system combines water and air pressure for a higher pressure to remove those stubborn skin discards and other particles. The kit comes with a shower mount, 60-inch hose, and mount. The attractive shower head design gives the impression of jet propulsion—a unique design patented by Oxygenics.
8. High-Pressure RV Shower Head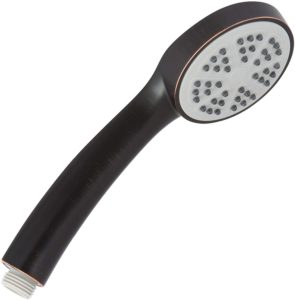 This unit comes as a shower head only. The head is easily installed by screwing onto the existing hose. The head has a three-inch face uniquely designed with 42 self-cleaning nozzles that blast water at an accelerated rate. The head consists of a heavy-duty rust-proof plastic that resists wear. The oil-rubbed bronze finish is an attractive addition to an RV shower setup and can be removed to be used elsewhere.
9. YOO.MEE High-Pressure Hand-Held Shower Head (Chrome)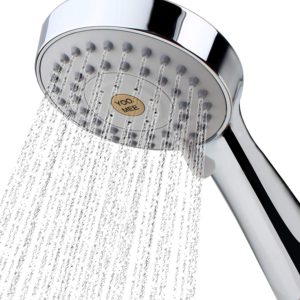 YOO.MEE developed this shower head specifically to work against low-pressure water pipes to present a compelling experience in the shower. The silicone rubber jet nozzles double the water pressure through a turbo power process. The kit offers the shower head, a flexible 79-inch stainless-steel hose with brass connectors, a bracket, and a flow regulator. The multi-functional shower head offers spray patterns from the rain-forest to a gentle mist.
10. High-Pressure Shower Head with a Brushed Nickel Finish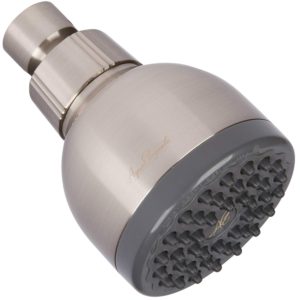 For those who are looking for a wall mounted head without the hand-held capability, this shower head produces accelerated water pressure through 42 silicon rubber self-cleaning nozzles. The head includes a flow restrictor for use in an RV which can also work in a home shower for a spa-like experience with the flow restrictor removed. The head consists of a durable ABS plastic with brass fittings to reduce cracking.
Related Review: 30 Must-Shop Flea Markets in the Midwest
These shower heads are the preferred units available for RV showers today. All reinforce the pressure offered by RV water tanks and economize on water use. The multiple designs allow the customer to choose a product that fits their specific needs.